Hope of a revival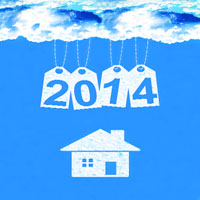 Though the dark clouds of a depressing realty scene are yet to lift, the sector is hopeful of a brighter prospects in the New YearNew Year is the time for new beginnings and new hope, and the realty sector in India seems to be all set to prove this right in 2014. While there are no two views about the fact that 2013 was, at best, a forgettable year for the stakeholders, but the hope of a revival in the New Year is what market watchers are predicting at this time. "2014 would be year of revival. Revival has started, the visible change would be seen from second half", says Lalit Kumar Jain, Chairman of realtors' body CREDAI.
AREA WATCH: FARIDABAD
In the grip of slowdown
Delay in delivery of projects and hike in Collector Rates have dealt a severe blow to the real estate prices in this district of HaryanaFaridabad may have been considered a promising realty destination in the National Capital Region (NCR) but the property market here has taken a severe beating over the past 12 months. This district of Haryana that shares its northern boundary with Delhi and western one with Gurgaon, has attracted a host of developers over the past few years and has a large number of residential projects are coming up here.